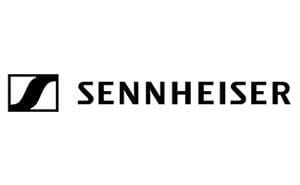 £739.00 Inc VAT
Sennheiser EW-D Digital Wireless Headset System with HSP Essential Omni Headset microphone

EW-D EM receiver
EW-D SK bodypack transmitter
HSP Essential Omni Discreet Headset Microphone
Versatile and feature-rich digital wireless system for those who sing, speak or play instruments that allows for seamless product pairing and management via the EW-D Smart Assist App. With a metal housing, the robust bodypack transmitter suits perfectly for daily use on stage.
Digital transmission operating in the UHF spectrum greatly enhances range, reliability and scalability
Smart Assist App connects via Bluetooth Low Energy for a streamlined setup and operation at a distance
Auto scan creates reliable connections with minimal time and effort
134 dB audio input dynamic range eliminates need for sensitivity adjustments and preserves every detail
Elimination of intermodulation enables channels to be placed in an equidistant tuning grid 600 kHz apart
56 MHz of tuning bandwidth and equidistant spacing enables up to 90 channels
2,240 selectable frequencies allow for fine tuning
Lithium-Ion battery pack (sold separately) delivers up to 12 hours of operation (up to 8 hours of operation with 2x provided AA batteries)
Raising the bar
Evolution Wireless Digital breaks the boundaries by providing more dynamic range than any wireless system currently on the market. Automatically securing the most reliable signal in a matter of seconds and scalable up 90 channels thanks to 56 MHz of tuning bandwidth, it's easy to see why this wireless system is in a class of its own.
Equidistant Spacing – simpler than it sounds
Evolution Wireless Digital features an equidistant tuning grid previously only found in our flagship Digital 6000 and Digital 9000 wireless systems. Quality components with exceptional linearity eliminate intermodulation between EW-D transmitters, allowing frequencies to be equally spaced every 600 kHz alongside each other. This simplifies frequency coordination for wireless beginners and seasoned professionals alike, and also contributes to the system's scalability and impressively high channel count.
An engineer in your pocket
The power of Bluetooth Low Energy puts full control right in the palm of your hand with the Sennheiser Smart Assist app. Take advantage of a remarkably fast automated setup, mobile access to every system setting and the added benefit of remote monitoring, all from the convenience of your Android or iOS device. Save time, save energy and perform with confidence.
HSP Essential Omni
Whatever you want to convey, the HSP Essential Omni neckworn microphone gives weight to your voice. Just as it pushes your speech forward, the device itself holds back from pressure and discomfort. Inconspicuous and lightweight, it is barely felt, even when worn for extended sessions. This also applies to its price, as the HSP Essential Omni won't apply pressure on any budget.
Nothing else is needed to convince you
With the HSP Essential Omni, the name is also a philosophy: it compresses professional requirements relating to quality and function down to the essentials – for a substantially lower price. For this price it combines a high level of wearing comfort with a robust frame, brilliant sound with distortion-free transmission and an inconspicuous appearance with a light-weight design. The result is a professional headset microphone to suit any budget.
HSP Essential Omni. Focus on what's really important.
Adaptable
Thanks to its continuously adjustable neckband, the HSP Essential Omni adapts perfectly to any head size or shape. Once adjusted, it is barely felt, as the optimally distributed lightweight design of only 25 grams exerts very gentle pressure. Furthermore, the microphone boom can be positioned on either the right or left side depending on the user's preference.
Gives weight to every voice
The HSP Essential Omni features Sennheiser's tried-and-true high-quality condenser KE 4 capsule. It is omnidirectional and achieves a clear, warm and distortion-free sound, even with very loud voices. Its patented umbrella diaphragm also provides reliable protection from moisture.
Inconspicuous and lightweight
All the components of the HSP essential Omni, such as the particularly slim microphone boom, have been kept as small as possible so as not to be noticeable during use. Select from both black and beige for easy concealment. Its lightweight, compact form factor is exceptionally robust and is designed for a long life-span. Should anything malfunction, the components of the HSP Essential Omni can also be easily replaced.
Newly developed KE 4 capsule provides warm nuances and better audio quality
Ability to handle maximum sound pressure levels for distortion-free reproduction in every application
Flexible and ergonomic neckband design adapts securely to a variety of head shapes and sizes
Gentle yet secure fit for maximum wearing comfort
Robust construction while simultaneously delicate and inconspicuous
Sweat resistant thanks to patented umbrella diaphragm and rubber sealing ring
Easy maintenance: high-quality mechanical structure; all individual parts can be replaced and ordered separately
High-quality coating, allergy-friendly
Specifications
Frequency ranges available

(U1/5) – 823.2 – 831.8 MHz & 863.2 – 864.8 MHz
(S1-7) – 606.2 – 662 MHz
THD, total harmonic distortion

≤ -60 dB for 1 kHz @ -3 dBfs input level

Operating temperature

-10 °C – +55 °C (14 °F – 131 °F)

Operating relative humidity

5 – 95 % (non-condensing)

Audio frequency response

20 Hz – 20 kHz (-3 dB) @ 3 dBfs

System Latency
EW-D EM
Dimensions

Weight

approx. 1000 g (without antennas and power supply)

Current consumption

Input voltage range

Transmission power

Audio output level
EW-D SK
Dimensions

63 x 80 x 20 mm (without antenna)

Current consumption

Input voltage range

Power supply

2 AA batteries 1.5 V (alkaline manganese)

or BA 70 rechargeable battery pack

Transmission power

ERP (Range Y1-3): 12 mW ERP

Weight
HSP Essential Omni Headset
Connector

Frequency response

Max. sound pressure level

Cable length

Weight

Diameter

Pick-up pattern

Sensitivity in free field, no load (1kHz)

Nominal impedance

Min. terminating impedance

Equivalent noise level

30 dB (A-weighted, DIN IEC 651)

Equivalent noise level weighted as per CCIR
What's in the Box
1 HSP Essential Omni
1 Soft pouch
1 Foam windshield
EW-D EM rack receiver
EW-D SK bodypack transmitter
2 rod antennas
power supply with country adapters
rackmount set
4 rubber feet
quick guide
safety guide
manufacturer declaration sheet
Brand
Sennheiser
DM Music Ltd are a Sennheiser Professional Audio Premium Partner. We have been supplying Sennheiser equipment for many years and regard it as our leading microphone brand. If you require anything not seen below then call us on: 01582 761122
---