The Project
As part of a large new-built residential and community development in Shoreditch, the new Baptist Church building offers a large open church worship space, multiple meeting rooms and offices plus outdoor spaces and other modern facilities for use not only by the church, but also the local community and other external organisations and events.
As a long-time client, with many projects and ongoing support already undertaken in the old church building, Shoreditch Tabernacle engaged DM Music as PA & AV consultant / integrator for the new build project.
In close coordination with the architects, developers, various site contractors, acoustic consultants and the church itself over a period of several years – from building construction to final completion stages – DM Music consulted on, designed, supplied and installed high-spec audio, induction loop and visual systems in the main church with additional cabling and physical infrastructure for further future expansion throughout the building. These offer high quality yet simple-to-operate and reliable solutions for various users, and with capabilities for more advanced performance and operations for digital live and recorded sound including wireless iPad control, multi-format HD visual projection plus capacity for the addition of theatre-type performance lighting systems.
Additional challenges prior to and during main PA & AV installation in April/May 2020 included the progression of the Coronavirus pandemic which affected international manufacturer equipment production, supply chains and installation at the church. While these factors frustrated planning and extended the on-site works timescales, liaising carefully with the church DM Music was able to meet all the UK Government requirements for safety, hygiene and social-distancing to still complete the fit-out with delayed final commissioning and hand-over until the lock-down was lifted. Detailed operator training was also undertaken later on, to ensure users of all technical abilities were well equipped to get the best out of the systems and so ensure maximum return on their investment.
Audio Design
A key element of the sound system requirements included detailed, high performance sound quality and volume levels within the church, while minimising noise disturbance to the new residential apartments built above the worship space. Over an extended period, initial on-site 'live worship' and computational assessment of noise levels throughout was undertaken by specialist acoustic analysis consultants in collaboration with the church to produce a broad data-set which would go on to inform the loudspeaker system products, setup and performance.
Working to these detailed and demanding specifications and with the challenges of the unusual shape and acoustics of the church space, computer aided acoustic modelling at the design stages and professional sound-testing analysis of the as-installed system performance ensured that this met all the requirements for sound coverage, clarity, quality and acceptable external spillage.
Audio Solutions
To meet the acoustic performance specifications the PA system required multiple specifically positioned, directional audio (cardioid) ceiling-suspended 10" loudspeakers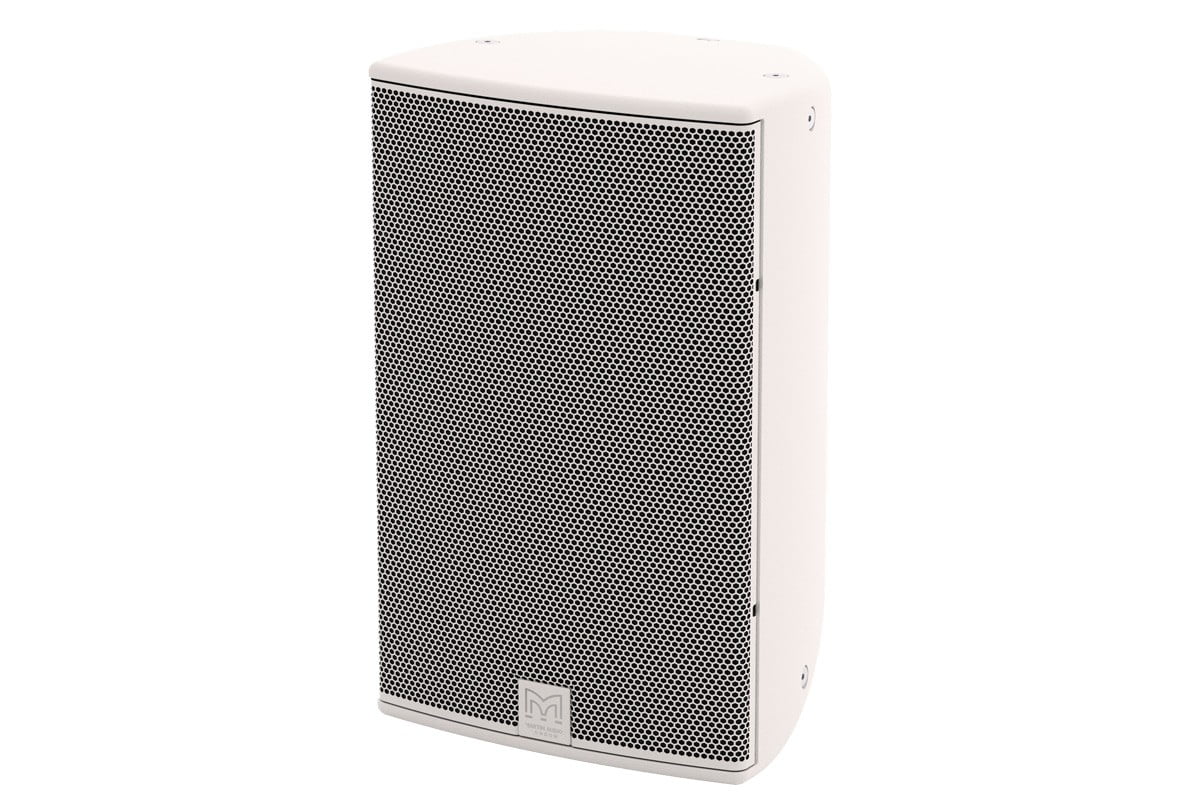 Martin Audio CDD10Martin Audio CDD10 and two cardioid 18"+14" dual-driver sub-woofer (bass) speakers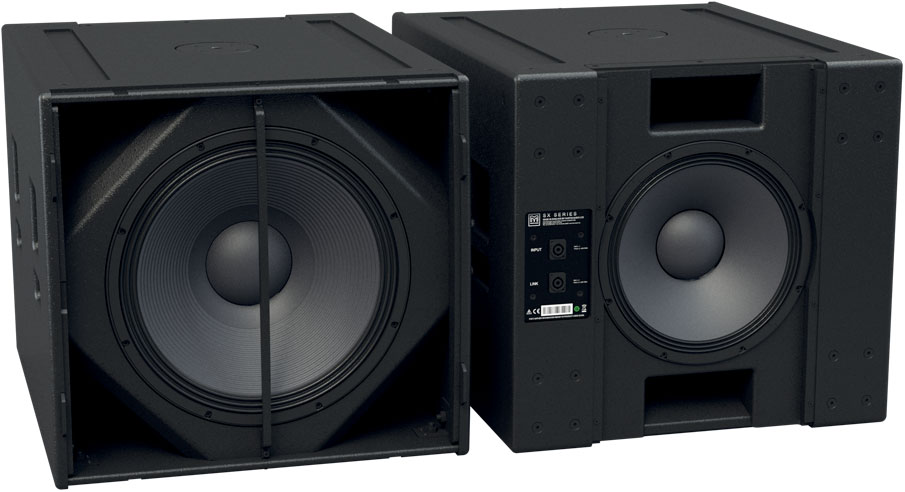 Martin Audio SXC118Martin Audio SXC118 , all fitted with custom acoustic isolation mounts to reduce transmitted vibration to the building structure plus highend, multi-channel

Martin Audio iKONMartin Audio iKON amplification and digital speaker processing (DSP) control.
An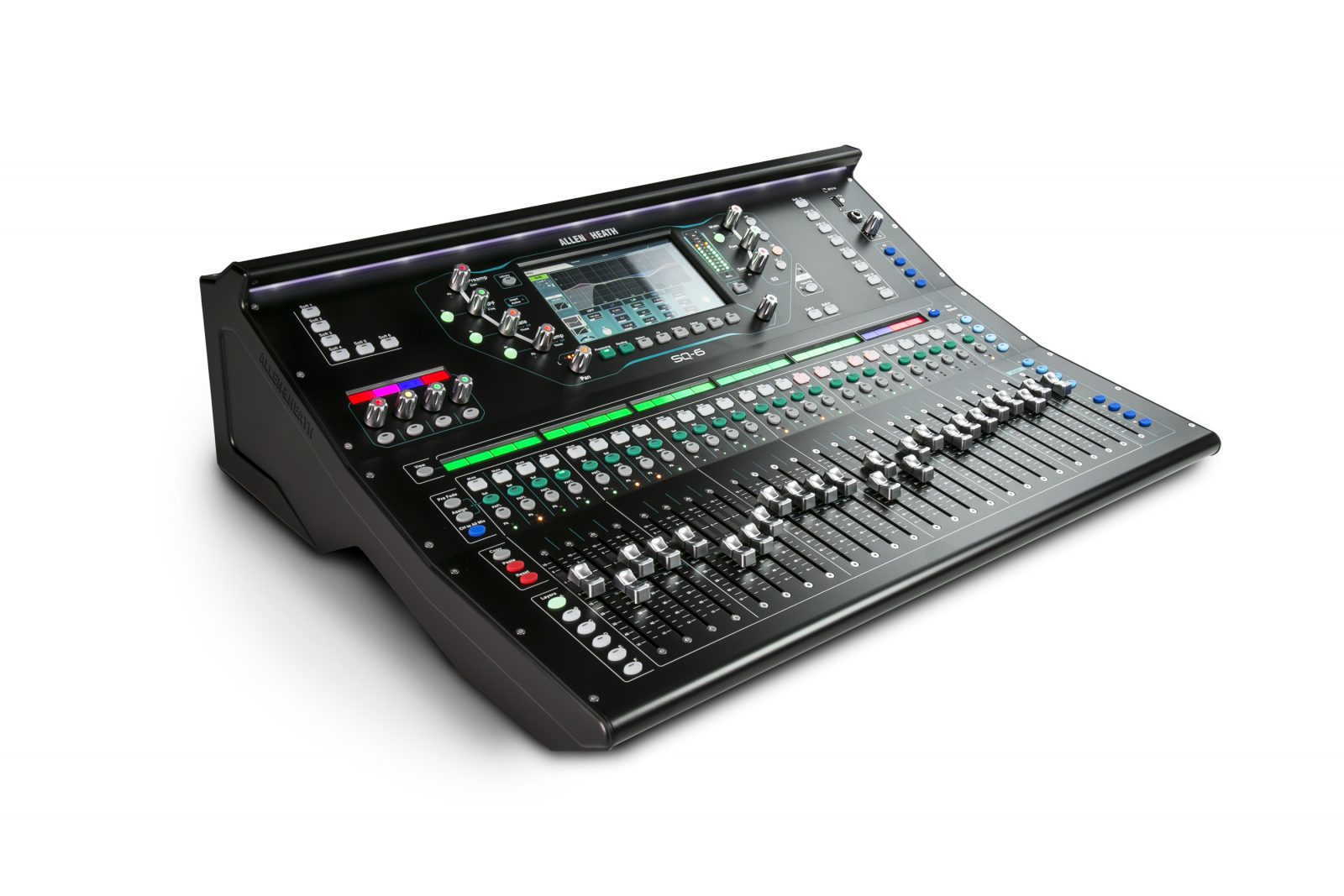 Allen & Heath SQ6Allen & Heath SQ6 digital audio mixer (up to 48 channels, 96kHz processing) with two
Allen & Heath DT168Allen & Heath DT168 remote digital stageboxes (16in/8out) on a Dante audio network offers full-range live performance audio control with touchscreen, USB recording, multi-band EQ, effects, routing and preset recalls for operators of various technical abilities and differing setups for speech, music playback and live band or event performance use. Multiple analogue audio and Dante digital audio network sockets offer a range of set-up options with capacity for future expansion.
Audio Equipment
PA system user and operator equipment included multiple professional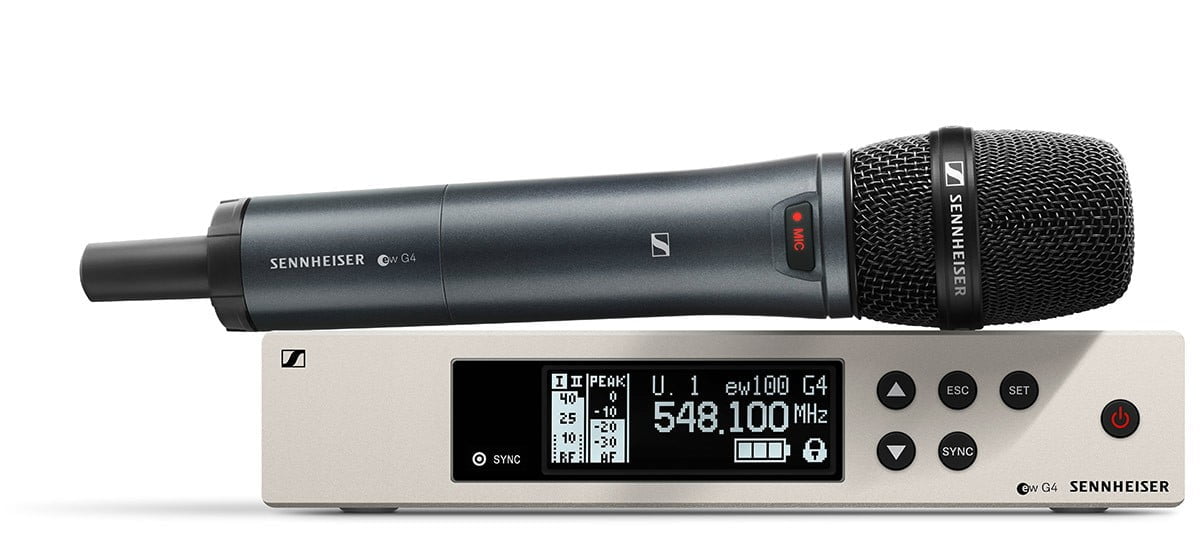 Sennheiser ew100 G4Sennheiser ew100 G4 series UHF analogue hand-held and lapel radio microphone systems,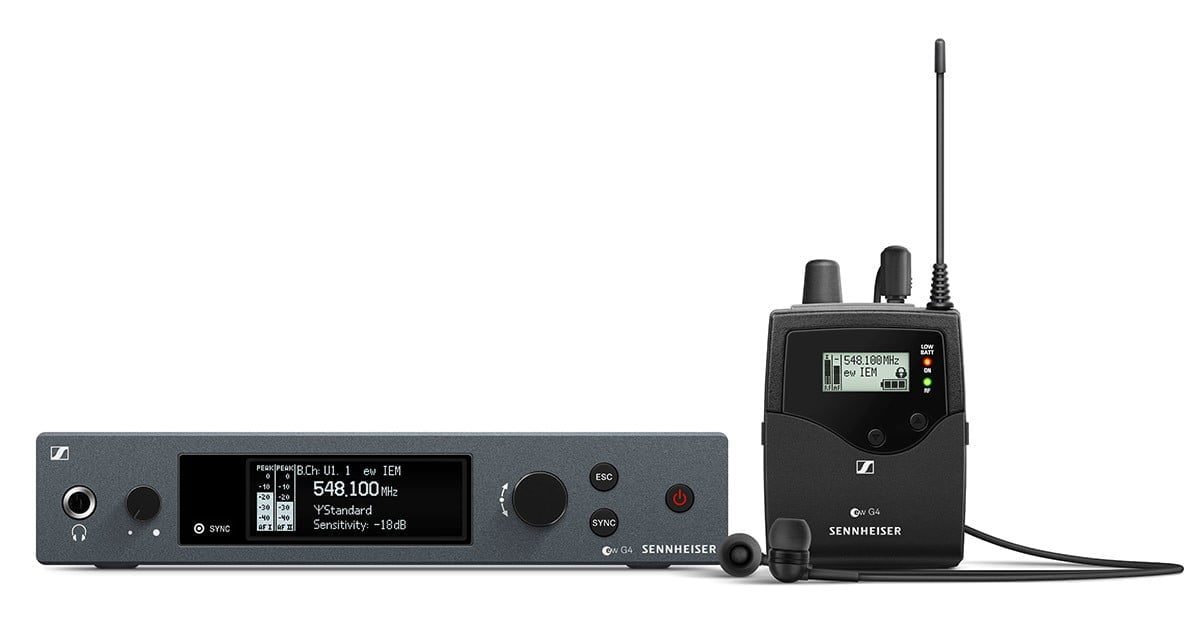 Sennheiser wireless In-Ear-MonitorSennheiser wireless In-Ear-Monitor (IEM) systems for band / performers personal foldback (instead of foldback monitor speakers to reduce on-stage noise levels) with remote antenna distribution systems (and all on fixed site radio licensing), various pro wired microphones for lectern, general speech & vocals and wireless iPad & mobile phone control via Allen & Heath
SQ MixPadSQ MixPad and
SQ4YouSQ4You apps for the digital audio mixer systems master control and band personal monitor mixing.
Further outboard and installed equipment consisted of various analogue and digital audio custom connection sockets for operator and band connectivity, an induction loop system for the hard of hearing, Dante audio network switch with an installed digital stagebox, mains power sequencing / conditioning systems to offer electrical protection with a simple master switch on/off control and automatic fan ventilation systems for the PA & AV equipment rack, located remotely to reduce clutter within the church worship space.
Visual Systems
Offering full HD 16:9 widescreen image format the main church central AV is handled by a professional rack-mounted switcher/scaler to offer multiple inputs from various AV sources and automatic format & scaling conversion, remotely controlled via a simple wall-mounted panel within the church.
An installation-grade, high power 7000 ANSI lumens 3LCD projector with long-throw lens installed at the rear and a motorised winch-screen system (retractable to be hidden at ceiling height when not in use) enable congregation viewing of text, song words, images, film clips etc, both controlled by the same simple wall-mounted AV control panel. Worship leaders and musicians at the front platform can view a floor-wedge AV foldback monitor screen, duplicating the projected images.
AV laptop input sockets at the operator position and recessed in the front platform offer simple connectivity for HDMI and VGA (+ audio) sources with all AV signalling via the 'industry standard' HDBaseT to offer visual signal plus embedded audio, power and control over single Cat6 data-cables, all over distances up to 100m. Additional installed distributed data-cabling throughout the building offers the possibility for future expansion, allowing AV relays to other areas, rooms etc.