The Project
As part of a wider reordering and modernisation project over several years in this historic Grade II listed church building including new mains electrics, lighting, redecoration, new flooring and renovation of the rear hall and car park, the main vision of the church was to enhance worship via new installed audio (replacing the previously old and unreliable setup) and now also with the addition of visual and internet streaming systems.
In close coordination with various site contractors and the church itself throughout the project DM Music consulted on, designed, supplied and installed discreet, modern and versatile PA, Induction Loop and AV systems in both the church hall and in the main Nave itself. These offered simple-to-operate and reliable solutions for day-to-day worship use, and with more advanced features available in the main church including wireless iPad control, wireless audio and visual connectivity and recording and streaming of live video content to the internet.
Careful consideration of equipment specifications, locations and aesthetics was essential to meet the historic and faculty requirements for discreet product and cabling installation, maintaining a traditional feel in the church while still meeting the demands of modern technology capabilities.
Audio Systems
Based around a discreet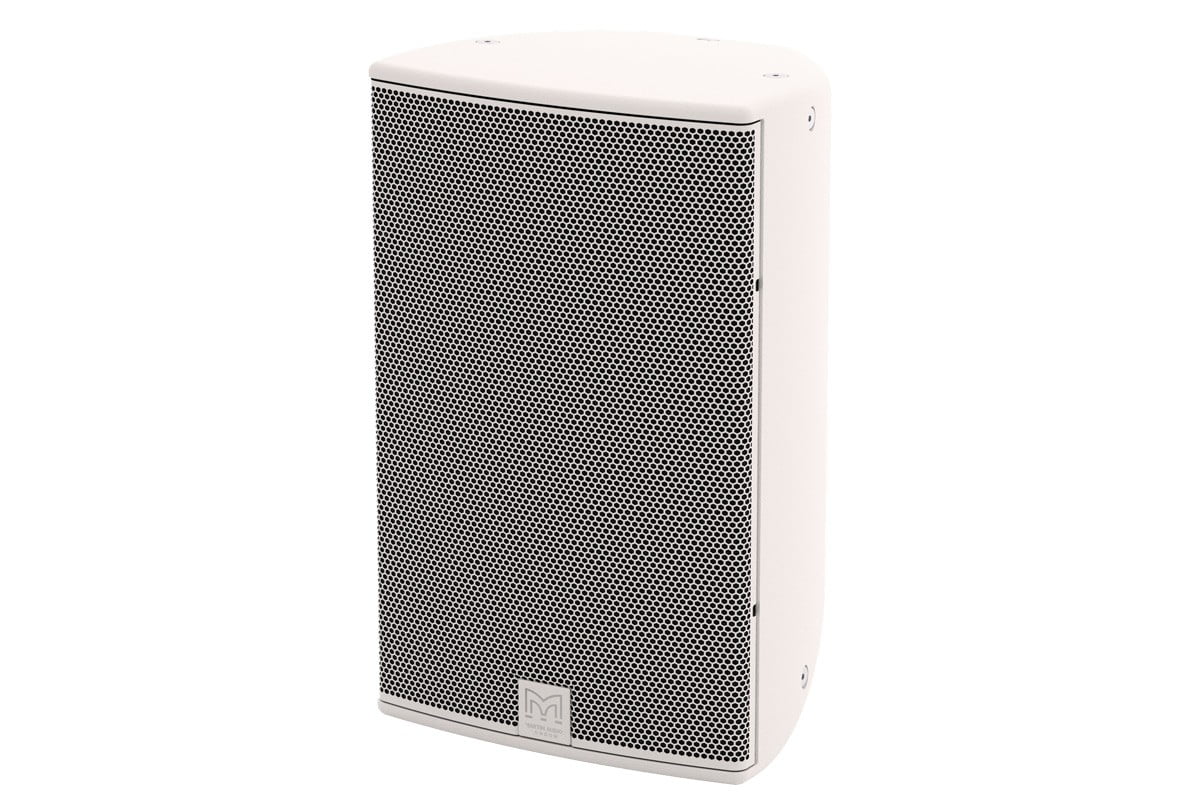 Martin Audio CDDMartin Audio CDD multiple loudspeaker system including a very compact sub-woofer (bass) speaker hidden under the pulpit and a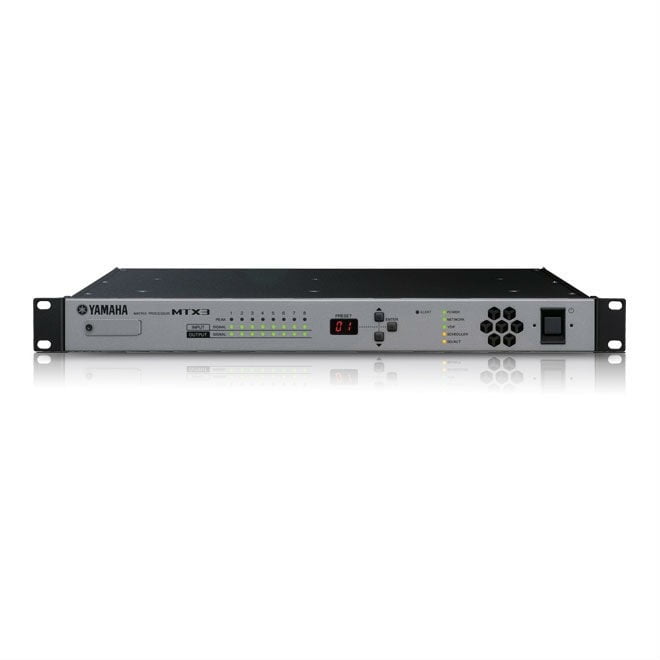 Yamaha MTX3Yamaha MTX3 expanded digital audio matrix/mixer processor 'brain' the PA offered multiple in/outputs, Automixing, EQ/feedback control and full-range audio with simple wired volume controls duplicated at both the front and rear of the Nave plus various audio input sockets for microphones, iPod, iPhone audio etc. Key audio settings were programmed and locked-out to prevent accidental tampering for reliable, consistent system operation on every use.
The optimisation and control of audio coverage in the church was facilitated by the matrix/mixer digital speaker processing (DSP) and the controlled, directional sound dispersion of the CDD series speakers on roof beams in the Nave, plus relay speakers in the Chancel and Vestry to offer high clarity and natural sound throughout.
A bespoke, wooden equipment rack in the Vestry offered housing for the main PA & AV control, amplification and outboard equipment including professional
Sennheiser ew100 G4Sennheiser ew100 G4 series UHF analogue hand-held and lapel radio microphone systems (on fixed site licences) with remote antenna distribution & dedicated battery charger units, wireless iPad control for the digital audio mixer system and mains power sequencing/conditioning systems to offer electrical protection, timed system power-up/down and a simple master switch on/off control for all systems.
Additional features included a multi-format CD/Media player with USB, a digital audio recorder, wireless Bluetooth audio connection in the Nave, new high quality wired microphones for lectern, pulpit and choir pickup and various audio sockets for additional mics, iPod audio connection etc.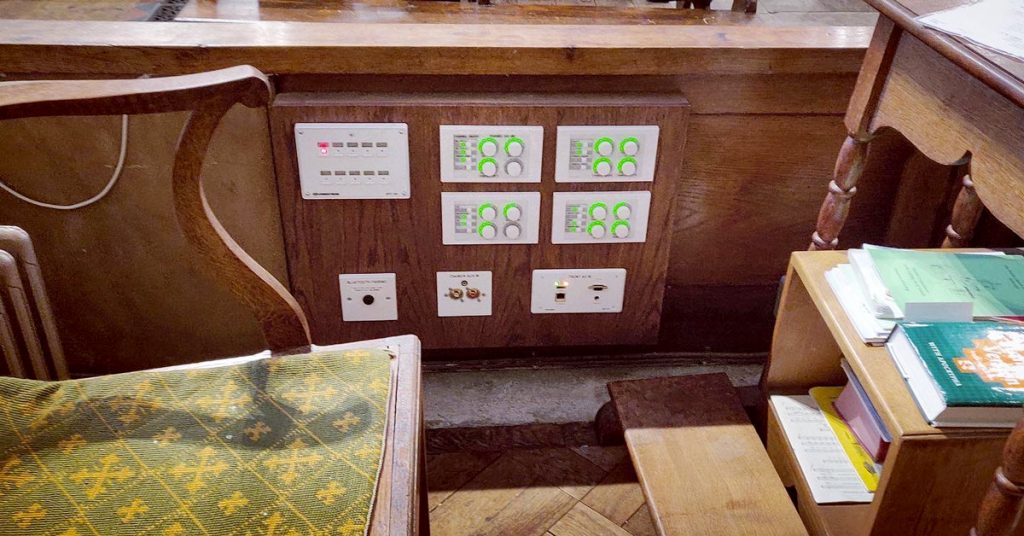 Visual Systems
Offering up to full HD 16:9 widescreen image format the Nave AV is handled by two installation-grade, high-power DLP laser projectors, discreetly mounted left and right at the first roof beams to be hidden from congregation view. Laser light source projectors (instead of the previously common lamp projectors) offer benefits including very low maintenance (no replacement lamps required), consistent image brightness, low noise and efficient energy operation and with a lifespan of 'up to 20,000 hours use'.
Specialist short-throw lenses and the advanced 3D 'geometric keystone' feature allowed for images to be adjusted to suit closer, more extreme projection angles, allowing the high-level, discreet positioning of the projectors.
A pro AV switcher/scaler in the rack offered multi-format inputs from various AV sources including Nave laptop VGA & HDMI input sockets front and rear, a DVD/BluRay player, wireless AV connection and an HD pan-tilt-zoom (PTZ) motorised camera with desktop preview screen and simple remote controller for manual camera adjustment or simple preset recall of multiple differing views allowing image capture for local presentation, video recording and live web-streaming.
Simple Crestron wired control panels front and rear in the Nave allowed remote control of AV image source selection, projectors on/off, DVD and AV recorder start/stop. All controls were also duplicated on the wireless iPad custom Crestron control app. AV wired signalling was the 'industry standard' HDBaseT to offer visual signal, embedded audio and power over single data cables plus options also for control data and LAN, all over distances up to 100m.
Network, Wireless & Control Systems
Utilising the versatile features offered by Crestron control systems, a full computer network LAN with wireless access points WAPs in the Nave was set up for the PA & AV systems. This allowed operators to use only the simple wired control panels or the custom iPad app for remote operation of audio and visual systems including:
Digital audio matrix/mixer: multiple channel volume & mute control
CD Player start/stop
MP3 audio recorder start/stop
DVD/BluRay Player start/stop
AV Recorder start/stop
AV Image source select (remote control of the AV switcher/scaler)
AV Projectors on/off
…Plus connection to the church internet for content access & web-streaming
DM Custom housing wall mounts for the easy-to-use wired controls and sockets (duplicated front and rear in the Nave) offered neat, practical and intuitive interfacing for operators while requiring only a very basic technical knowledge of audio and visual systems operation for users of all levels of experience and ability.