The Project
As part of a large new-built residential and community development project in Battersea, the new St Peter's Church building offers a large open Church Worship Space plus additional Community Hall, multiple meeting & seminar rooms, offices and other modern facilities for use not only by the church, and also the local community and other external organisations and events.
In close coordination with the architects, developers, various site contractors and the church itself over a period of several years – right from initial concept and building design, through to the construction and completion stages – DM Music consulted on, designed, supplied and installed multi-room PA, AV and Performance Lighting systems. These offer simple-to-operate and reliable solutions for various users, and with capabilities for more advanced operations for digital live and recorded sound, multi-format visual matrixing plus theatre-type performance lighting systems in the two main large spaces.
A series of operator training sessions were also undertaken following installation to ensure users of all technical abilities were well equipped to get the best out of the systems and so ensure maximum return on the churches investment.
Audio Systems
Main Church Space PA
Based around a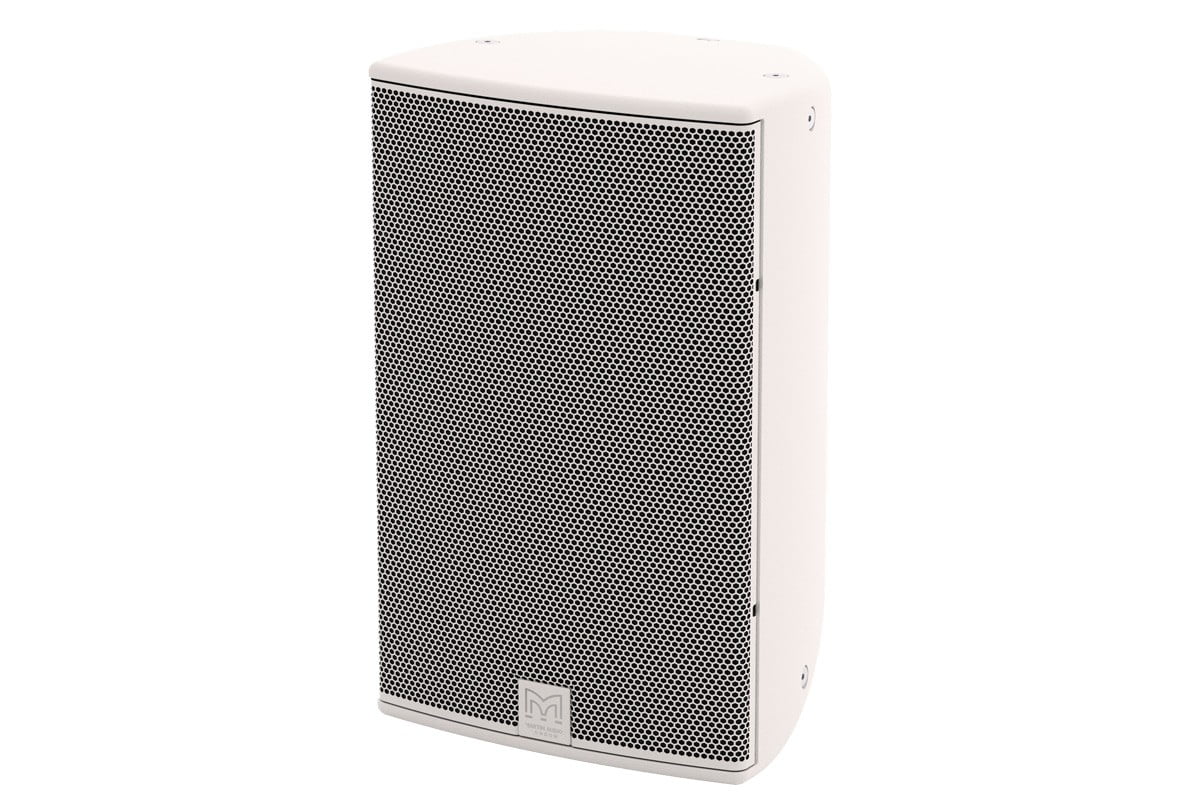 Martin Audio CDDMartin Audio CDD loudspeaker system and a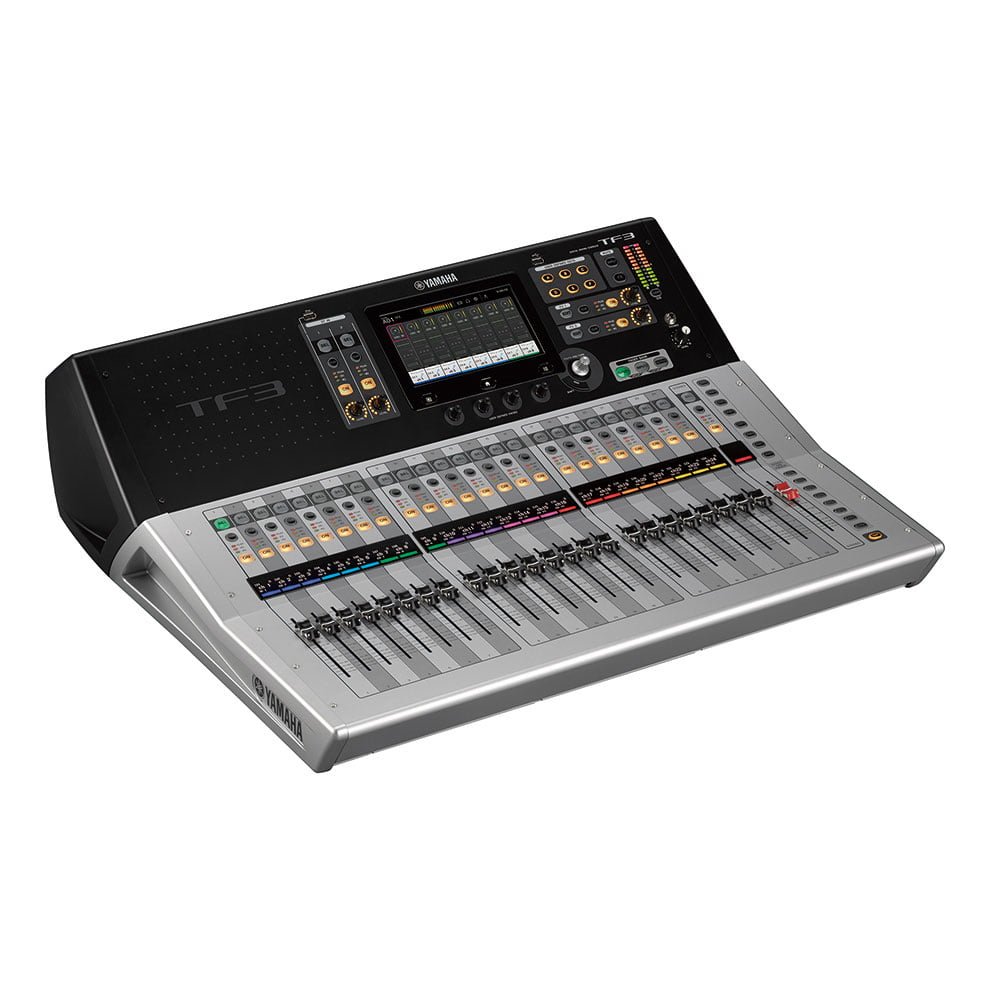 Yamaha TF3Yamaha TF3 digital audio mixer with multiple remote digital stageboxes (both installed and portable) on a Dante audio network the PA offers full-range optimised audio with various preset recalls for operators of various technical abilities and differing setups for speech, music playback and live band use as required. Multiple analogue audio and Dante digital audio network sockets offer a variety of set-up options for live band use with capacity for further future expansion.
Consideration and control of audio spillage outside the building and even coverage within is supplied by digital speaker processing (DSP) and the controlled sound dispersion of the CDD series speakers.
A large bespoke, raised wooden operator console offers housing for the main PA operator equipment including professional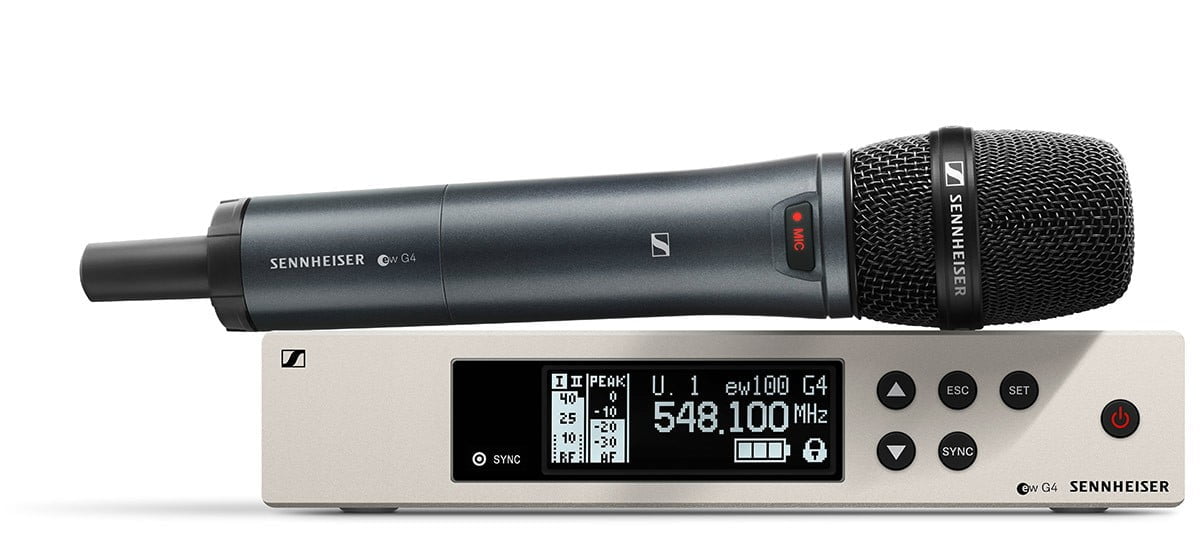 Sennheiser ew100 G4Sennheiser ew100 G4 series UHF analogue hand-held, lapel and discreet headset radio microphone systems (on fixed site licences) with remote antenna distribution & dedicated battery charger units, wireless iPad control for digital audio mixer systems and distributed mains power sequencing/conditioning systems to offer electrical protection and a simple master switch on/off control of all systems.
Key Audio Items:
Martin Audio CDD-series speakers & sub-woofers
Installation grade power amplifiers and loudspeaker processing (DSP)
Yamaha TF-series digital mixer system, multiple digital stageboxes, multiple sockets for Dante Audio Network, iPad wireless audio control
4 Channels Sennheiser ew100 G4 series wireless UHF radio microphones & re-charging dock + Licensing
Multiple wired analogue microphones & sockets for speech, general pickup, band audio etc
Induction loop systems for the hard of hearing
Surgex power sequencing/conditioning
Multi-room audio relay for overflow etc
Community Hall PA
Also based around a Martin Audio CDD loudspeaker system with an analogue audio mixer the PA here also offers full-range, Digital Speaker Processor (DSP) controlled audio with the possibility of adding in a sub-woofer from the main church for larger events.
Other features include Sennheiser radio microphones (on fixed site licences) with a remote antenna system, local mains power sequencing / conditioning / protection systems, an induction loop for the hard of hearing, multiple analogue audio sockets and Dante digital audio network sockets offer various options and readiness for either local stand-alone PA use or simple plug-in of an external digital mixer system when required for larger events.
Audio is relayed to and from the main Church PA system to allow Community Hall use for services overflow and user monitoring, plus audio relay to the adjacent external courtyard area to allow connection of portable PA systems for outdoor events.
Other Rooms PA
Seminar and meeting rooms offer simple-to-use 'AV/audio' systems based around a large commercial-grade LED TV screen each with a TV sound bar. Along with local audio input sockets for iPod etc, audio is also relayed to each room from the main Church PA embedded onto the building-wide distributed AV (visual) signalling HDBaseT protocol. Simple wall-mounted controllers provide volume control and system on/off along with other AV functions (also see AV systems below).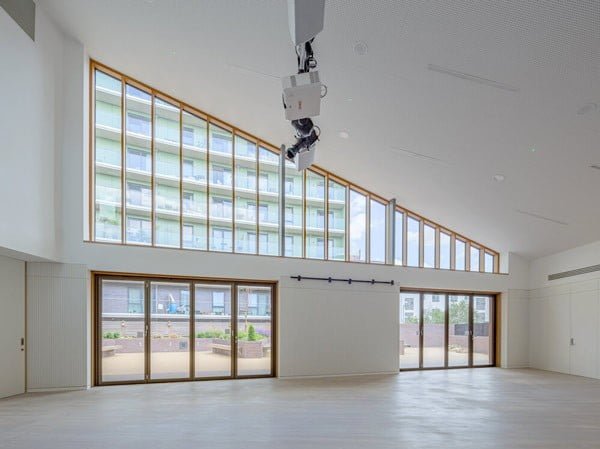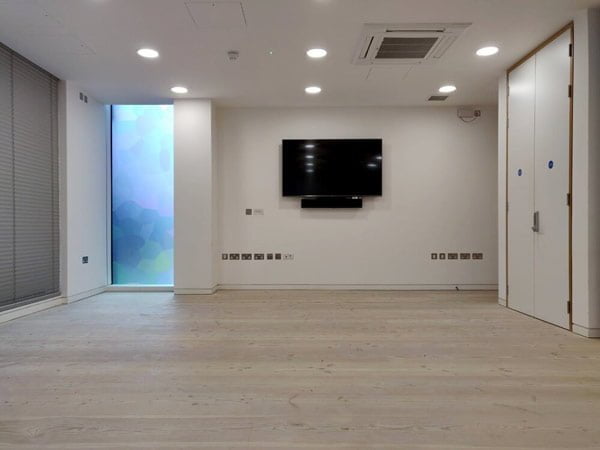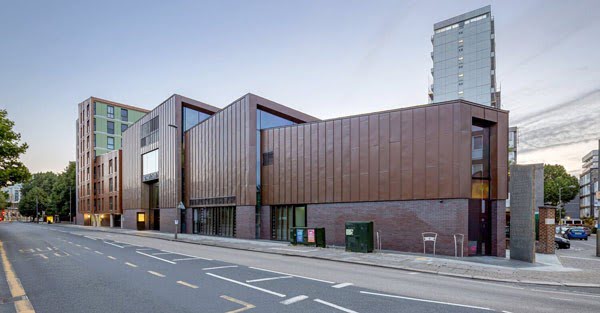 Visual Systems
Main Church Space AV
Offering full HD 16:9 widescreen format the main church AV is handled by a

Roland XS-83HRoland XS-83H matrix switcher to offer multi-format inputs from various AV sockets, DVD/BluRay player, operator PC/computer, Apple TV, Freeview TV signal and multiple camera sources in the church and other areas.
AV outputs are automatically scaled to suit and can be relayed to the main Church projector and installed and floor-wedge relay monitor screens, other rooms, AV recorder, operator preview monitor screens and more in a variety of routing combinations as required. All key AV matrix settings such as audio embedding, delays, routing, AV resolutions etc are locked-out to prevent tampering and so offer simple user interfaces via the on-board buttons, the additional even simpler remote desktop control panel or the user-friendly, customisable wireless iPad control app.
A large, electric projector screen (tab-tensioned to promote long-life flatness for the screen material) and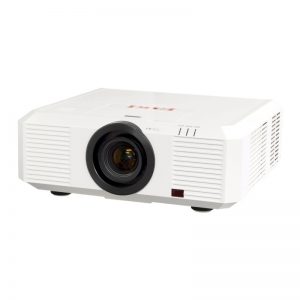 EIKI EK-511WEIKI EK-511W installation-grade 7500 ANSI lumens LCD projector are operated by the simple operator control panel and all AV signalling throughout the building is 'industry standard' HDBaseT to offer visual, embedded audio and power over single data cables plus options also for control data and LAN, all over distances up to 100m.
An HD pan-tilt-zoom (PTZ) camera is installed on the ceiling with a dedicated operator camera preview monitor screen and desktop remote control at the console for manual camera adjustment or preset recall of multiple differing views. Additional camera input sockets are located around the church space to allow mobile operator cameras to also be employed.
Community Hall AV
For consistency the Community Hall visual system also employs the same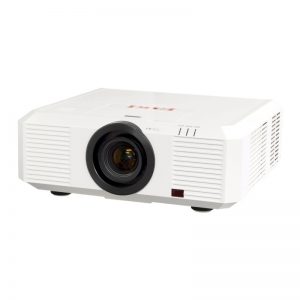 EIKI EK-511WEIKI EK-511W 7500 ANSI lumens LCD projector and tab-tensioned projector screen, but here with a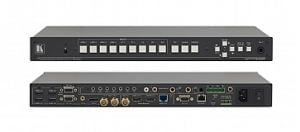 Kramer VP-774AKramer VP-774A pro switcher/scaler at the heart of the system offering multiple inputs, automatically scaled to produce a consistent 16:9 widescreen output image even with various input formats from user AV input sockets at the front and rear of the hall, local fixed compact HD camera, AV relay feed from the main church and the Freeview TV signal. Audio from the local PA system is also automatically switched along with AV source ('audio follows AV').
HDBaseT signalling feeds the local AV sockets, Projector and AV image relay both to and from the main Church AV system and again a simple AV control panel offers projector on/off and screen up/down.
Other Rooms AV
Seminar and meeting rooms offer simple-to-use 'AV/audio' systems based around a large commercial-grade LED TV screen each with a TV sound bar. Along with local audio and AV input sockets for laptops etc, a digital visual and audio feed is also relayed to each room from the main Church PA/AV via the building-wide distributed AV (visual) signalling HDBaseT protocol. Freeview TV signal is also distributed to each screen and AV system. Simple wall-mounted controllers provide AV input source select, volume control and local system on/off.
Performance Lighting Systems
Main Church Performance Lighting Systems
To offer an introduction to 'theatre type' lighting and possibilities for future expansion the main Church space lighting installation was based around a large ceiling suspended box-truss rig. Various LED lighting fixtures (lights) including moving heads, washes and spot-light by Martin Pro and Chauvet offer versatile multi-colour effects with fewer fixtures.
Controlled by a PC-based, 2 Universe DMX software interface, operators may setup multiple scenes and presets for simple or advanced use, plus the option to easily connect a DMX lighting controller console for bigger events or for external users bringing their lighting gear to the church.
Various additional DMX sockets around the church space also offer possibilities for further future expansion, either for other high-level installed lighting fixtures or for portable units such as up-lights, haze/smoke machines, floor spots etc.
Community Hall Performance Lighting Systems
Smaller, but otherwise similar to the main Church Lighting Systems, the Community Hall again offered Martin Pro and Chauvet moving heads, washes and spot-light etc all on a suspended lighting bar. This also included mounting for the AV projector and loudspeakers so all large installation equipment was kept together.
Including a compact DMX controller / fader console mounted in the PA/AV equipment rack and again facility to connect another external DMX lighting controller into the system.