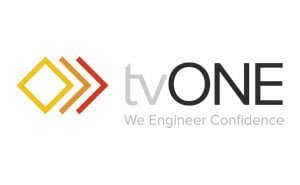 Discontinued
Inputs: DVI RGB/YPbPr, Analog RGB via HD-15, YUV/YPbPr via 3-BNC, C-Video via BNC S-Video
All Input Signals are Scalable
Automatic incoming resolution detection
AutoSet® – Automatic picture sizing
Computer Resolutions to 2048×2048
HDTV Resolutions to 1080p
Multiple Worldwide Television Standards
RS-232 & IP Interface w/Windows Control Panel
C2-2300 Universal Video Switcher/Scaler series is based on TV One's exclusive CORIO2™ technology and provides high quality scaling in any direction between standard video, DVI or Analog computer and HDTV signals. NTSC and PAL standards are supported. Input and Outputs can be Composite Video, S-Video, YUV Component, YPbPr (Progressive Scan) Component or RGB. Our exclusive AutoSet® feature takes the hassle out of setup by automatically sizing and positioning the computer image to fit exactly on the video screen. Signal parameters of the incoming video may be adjusted. All settings are stored in non-volatile memory and are retained even when power is switched off. The high resolution RGB/YPbPr outputs are selectable as any computer resolution up to 2048×2048 at any vertical refresh rate or any HDTV resolution up to 1080p. A wide variety of computer signal formats are available to support PC, Mac and Workstation formats. C2-2355 provides an SDI Output in addition to all of the features of the C2-2350.
All the functions can be controlled via the front panel Push Buttons, an Infrared Control Remote Unit or via an RS-232 or IP connection. A Windows Control Panel is provided and most third party control systems interface directly with the entire C2 range of products. A front panel LCD makes setup easy.
Variable Zoom to 10X allows you to enlarge any part of the computer screen to fill the entire video screen and position controls allow you to move around to any area desired. Variable Shrink to as little as 10% allows fitting the image onto most displays. The advanced Digital Flicker Elimination circuitry and high sampling rate insures crisp, clear images, while full bandwidth chroma sampling insures faithfully reproduced, high resolution colors. Motion compensation and a 3:2 Pulldown feature for NTSC greatly improves image quality.
Stereo Audio switching is provided by an integral 4×1 audio routing switcher. The four impedance-independent unbalanced inputs follow the video input selection. A rear panel terminal block provides access.
PIP, Chromakey, Lumakey, Mixing and Genlock are among the advanced standard features. The Key Mode allows computer graphics to be keyed over an external Composite or S-Video signal. The keyed image may be faded in and out. Due to the 4:4:4 sampling format, precise keying at the pixel level can be achieved. The Mix Mode permits glitch-free mixing between the computer image and external video. The Picture-in-Picture Mode allows either of the computer inputs to be inset in a window over either of the video inputs or visa versa. The PIP window may be placed anywhere on the screen. The Genlock feature insures precise synchronization of the incoming signals by providing a wide Subcarrier lock range with Subcarrier phase adjustment. C2-2000 series units are housed in desktop cases and rackmount kits are available as an option.
Edge Blending is a standard feature of the C2-2350 and C2-2355. Because of the ability to 'feather' any or all of the edges, multiple images can be aligned vertically, horizontally, or both to create unusual displays. Using multiple C2 units, there is no limit to the number of blended images. Edge Blending is not limited to high resolution RGB computer images, but can be applied to any input. Gamma correction is employed to compensate for many of the problems faced when blending between projectors. Special preparation of the video in advance is not necessary, since all processing is done within the C2 unit.
Input Expansion to add additional DVI, RGB, YPbPr, YUV, Composite or S-Video inputs is easy by using any of the optional S2 Series Input Expansion Switchers. The S2 unit links to any C2-2000 series unit via an Options Interconnect Cable and becomes an integral part of scaler from a control and operational standpoint. The routing of these additional inputs is controlled directly from the control system of the C2. Multiple different S2 models may be simultaneously connected to a single C2, providing virtually unlimited input flexibility.
Inputs: DVI RGB/YPbPr, Analog RGB via HD-15, YUV/YPbPr via 3-BNC, C-Video via BNC S-Video
All Input Signals are Scalable
Automatic incoming resolution detection
AutoSet® – Automatic picture sizing
Computer Resolutions to 2048×2048
HDTV Resolutions to 1080p
Multiple Worldwide Television Standards
3:2 Pulldown for NTSC Film Mode
Video signal parameter adjustments
Outputs: DVI RGB/YPbPr, Analog RGB/YUV/ YPbPr via HD-15, C-Video via BNC and S-Video
Integral 4×1 Stereo Audio Routing Switcher
RS-232 & IP Interface w/Windows Control Panel
Optional IR Remote Control
Variable Image Zoom to 10X and Shrink to 10%
Genlock With Subcarrier Phase Adjustment
Picture-in-Picture
Chromakey and Lumakey
Edge Blending
Optional Single/Dual Rackmount Kit
Optional Input Expansion with S2 Switchers
SDI Output (C2-2355)
Video Inputs
Television Standards
NTSC, PAL, PAL-M, PAL-N, SECAM
Composite Video
2x via BNC
S-Video (YC)
2x via 4-Pin Mini-DIN Connector
YUV/YPbPr
1x via 3-BNC
Computer Inputs (2)
Signal Type
1x Analog via HD-15F w/Loop-thru
1xDVI-D via DVI-I Connector
Format
RGBHV, RGBS,RGsB, YPbPr
Sync
TTL Level, 10KΩ, Pos or Neg
Termination
Auto-terminating into 75Ω
R-G-B Level Range
0.5-2.0 Vp-p
Scan Rate Detection
Automatic
PC Resolutions
Any up to 2048×2048
HDTV Resolutions
Any up to 1080p
Max Horiz Scan Rate
150KHz
Computer Compatibility
PC, Macintosh, Workstations
Computer Outputs (2x)
Signal Type
1x Analog via HD-15F w/Loop-thru
1xDVI-D via DVI-I Connector
Format
RGBHV, RGBS,RGsB, YPbPr
R-G-B Level Range
1.0 Vp-p
PC Resolutions
Any up to 2048×2048
HDTV Resolutions
Any up to 1080p
Vertical Refresh Rate
Any to 250Hz
General
Size & Position
AutoSet or Manual
Image Size
User-Definable Presets
Image Freeze
One Video Frame
Settings Memory
Non-Volatile
Zoom Range
Variable to 10X Zoom
Shrink Range
Variable to 10%
Image Mirroring
Horizontal and/or Vertical
Horizontal Filtering
Full Digital
Conversion Technology
Proprietary – CORIO2™
Color Resolution
24-bit (16.8 Million Colors)
Sampling Rate
108MHz
Digital Sampling
24-bit, 4:4:4 format
Firmware Memory
Flash, Upgradeable via RS-232
Video Decoder
9-bit Digital
De-Interlacing (NTSC-PAL)
Pixel-level Motion Adaptive
Comb Filter Decoding
Adaptive
Film Mode (NTSC)
3:2 Pulldown
Video Adjustments
Contrast, Brightness, Saturation, Hue(NTSC), R-G-B Levels
Audio Input/Output
Inputs
4x Unbalanced via Terminals
Outputs
Unbalanced via Terminals
Operational Modes (C2-2350, C2-2355)
Key
Chromakey or Lumakey
Mix
PC to/from Video
PIP
Variable Window Size & Position
Genlock Adjustments
Subcarrier Lock Range
/- 200Hz for NTSC Operation
( /-250Hz for PAL Operation)
Subcarrier Phase
/- 180° Adjustment
Control Methods
Local
via Front Panel Buttons & OSD
RS-232 Interface
via D9 Female Connector
IP Interface
via RJ45
Infrared Remote
via IRC-5 Remote Unit
Input Expansion Control
via D-15 Options Connector
Warranty
Limited Warranty
2 Years Parts and Labor
Regulatory Approvals
Main Units
FCC, CE, RoHS
Power Supplies
UL, CE, CSA, RoHS
Mechanical
Desktop Case (H-W-D)
1.63"x8.58"x5.91" (41.5x218x150mm)
Weight (Net)
2.6 lbs (1.2 kg)
Environmental
Operating Temperature
4° to 45° C ( 40° to 113° F)
Operating Humidity
10% to 85%, Non-condensing
Power Requirement
External Power Supply
12VDC@1A
Accessories Included
1x C-Video Cable
6' (2m) BNC to BNC
1x VGA Cable
6' (2m) HD15 Male to Male
1x DVI Cable
6' (2m) DVI Male to Male
1x Serial Cable
6' (2m) D9 Male to Male
1x IR Remote
IRC-5
1x Operations Manual
C2-2000 Series
1x In-Plug Power Supply
US, UK or Euro
Product Item Numbers
C2-2350
Universal Video Switcher/Scaler
C2-2355
w/SDI Out
Optional Accessories
RM-220
Single/Dual Rackmount Kit
S2 Series
Input Expansion Switcher
Brand
TV One