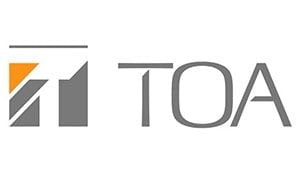 £148.00 Inc VAT
Compact installation speaker
8ohm, 90w cont prog (LoZ)
100 Volt line option
Includes mounting bracket
Available in Black or White
F-1300W full range wide dispersion speaker
The latest addition to TOA's acclaimed speaker line, the new F-2000 F-1300and F-1000 Series of compact, high efficiency two-way speakers achieve higher performance levels for wide range frequency response and power handling.
Designed to be extremely versatile in order to meet different installation and application requirements, the new F-2000, F-1300 and F-1000 Series are ideal solutions that solve increasing needs for adaptable sound reinforcement.
Finish in Black or White
Low impedance and 100V versions (F-1300BT or F-1300WT)
Weather proof version available
External rotary control for various impedance settings
Multi position Bracket included
Built in speaker protection
Various mounting brackets enables a wide variety of installations, for example on walls, ceilings and speaker stands. Moreover, additional available brackets make even more demanding installations possible.
Specification Model F-1300W & F1300B
Enclosure Type – Bass-reflex type
Power Handling Capacity – 30W(continous pink noise) 90W (continous program)
Impedance – 8Ohm
Sensitivity – 87dB (1w,1m)
Frequency Responce – 85-20,000Hz
Crossover Frequency – 5kHz
Directivity Angle – Horizontal 90, vertical 90 degree
Speaker Componenrs – Low frequency 10 cm cone type. High Frequency, Balanced dome tweeter
Input Terminals – Push-in terminal
Finish – HIPS, white or black
Dimensions – 130(W) x 202(H x 131(D)mm
Weight – 1.8 kg (3.97 lb) (including the supplied brackets)
Accessories – Speaker bracket – 1, Joint bracket – 1, Wall bracket – 1, Bracket fixing screw – 1 set
Option – Board hanger bracket:HY-CM20B, Cluster bracket: HY-CL20B, Speaker stand:ST-16A
Specification Model F-1300WT & F-1300BT 
Enclosure Type – Bass-reflex type
Rated Input – 30W
Rated Impededance – 100V line: 330 (30W), 1K (10W), 3.3K (3W), 10K (1W)
Sensitivity – 90dB (1w,1m)
Frequency Responce – 80-20,000Hz
Crossover Frequency – 2kHz
Directivity Angle – Horizontal 90, vertical 90 degree
Speaker Components Low frequency 13 cm cone type. High Frequency, Balanced dome tweeter
Input Terminals – Push-in terminal
Finish – HIPS, white or black
Dimensions 162(W) x 250(H) x 161(D)mm
Weight 3.6 kg (7.94lb) (including the supplied brackets)
Accessories – Speaker bracket – 1, Joint bracket – 1, Wall bracket – 1, Bracket fixing screw – 1 set
Option – Board hanger bracket:HY-CM20B, Cluster braket:HY-CL20B, Speaker stand:ST-16A
Brand
TOA