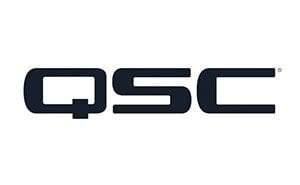 Call for price
Professional Power Amplifier 2 x 1000w @ 4ohms (2U)
Power levels matched to the most popular speakers
Optimized for maximum real-world headroom
Minimum depth chassis fits in compact effects racks
Gain controls for precise setting and matching of sensitivity
GuardRail automatically protects the system
Front panel LEDs monitor Power, Signal and Clipping
GX Series amplifiers are ideal for professional entertainers who require maximum performance and portability on a limited budget. The hallmarks of the QSC brand – professional audio quality, meticulous engineering, precision manufacturing and long-term reliability – are all intrinsic to GX. Add contemporary styling, multiple input/output options, light weight, and advanced protection circuitry, and the GX Series clearly represents real value – something everyone can use.
GX amplifiers deliver just the right amount of power to the most popular speakers used by entertainers. Typically, loudspeaker manufacturers recommend an amplifier with power output equal to the speakers.
Product Features
Power levels matched to the most popular speakers used by entertainers
Optimized for maximum real-world headroom into 4 ohm and 8 ohm speaker systems
Inputs: XLR, 1/4″ TRS and phono input connectors for compatibility with any source
Outputs; Speakon® combo accepts: 1/4″ (TS) plugs or Speakon 2-pole and 4-pole plugs.
Outputs; Binding posts support all other speaker wiring systems
Minimum depth chassis (10.1″/257 mm) fits in compact, inexpensive effects racks
Lightweight – only 15.5 lbs (7 kg)
Detented gain controls for precise setting and matching of sensitivity
GuardRail™ automatically protects the system temperature damage without shutting down the show
Front panel LEDs monitor Power, Signal and Clipping
Subwoofer/Satellite crossover built-in
Product Specifications
8 ohms 1 kHz (both channels driven): 725W
8 ohms / 1 kHz (single channel driven): 800W
4 ohms / 1 kHz (both channels driven): 1000 W
4 ohms / 1 kHz (single channel driven): 1200 W
Distortion (1 dB below rated power, 1 kHz): 8 ohms: less than 0.02%. 4 ohms: less than 0.05%
Signal to Noise, 20 Hz-20 kHz: 100 dB
Input Sensitivity @ 8 ohms: 1.2 Vrms
Voltage Gain @ 8 ohms: 36.1 dB
Output Circuitry: 2-tier Class H
Power Requirements: 10.1A
Amplifier and Load Protection: Short circuit, open circuit, thermal, RF protection.
Front Panel: Gain controls, 21 detents.
Front Panel: Red Clip LEDs, proportional, 0.1% THD threshold.
Front Panel: Green Signal LEDs, threshold -35 dB.
Front Panel: Blue Power LED, AC on
Rear Panel Controls: Full Range / Crossover switch. 100 Hz, 3rd order LP (sub), 2nd order HP (top)
Dimensions: Height: 3.5″ (89 mm) 2RU, Width: 19″ (483 mm), Depth: 10.1″ (257 mm)
Brand
QSC