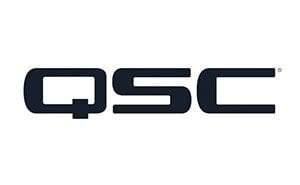 £1,675.00 Inc VAT
Power Amplifier 2x1400W @ 4ohms (2x2000W@2ohms) 3U
Thermal performance that gives higher continuous power
High current power supply
3RU chassis only 16 inch deep
Professional quality performance
Independent user-defeatable clip limiters reduce distortion
Front mounted gain controls for easy access
QSC's RMX 4050a power amplifier represents the state-of-the-art in professional quality performance at an affordable price. Perfectly suited for a wide range of sound reinforcement applications including professional touring, performing musicians, and mobile DJs, the RMX 4050a is optimized to deliver high levels of sustained power, extraordinary audio performance, and road-proven reliability.
Product Features
Improved thermal performance that gives you higher continuous power
Dual mono, high current power supply for increased reliability and performance
3RU chassis only 16″ deep
Professional quality performance – incorporates road-proven QSC designs
High-current toroidal transformers for greater 2 ohm power and low noise
Independent user-defeatable clip limiters reduce distortion
Selectable low frequency filters (30 Hz or 50 Hz) protect speakers and increase headroom
Balanced 1/4″ (6.3 mm) TRS, XLR and barrier strip inputs
Binding post and Neutrik Speakon outputs
Front mounted gain controls for easy access
Signal and Clip LED indicators to monitor performance
3 year warranty. An optional 3 year extended service contract is available.
Product Specifications

Stereo Mode: 8 ohms: TC 20 Hz – 20 kHz, 0.1% THD: 800W. EIA 1kHz, 0.1% THD: 850W.
Stereo Mode: 4 ohms: FTC 20 Hz – 20 kHz, 0.1% THD: 1300W. EIA 1 kHz, 0.1% THD: 1400W.
Stereo Mode: 2 ohms: FTC 20 Hz-20 kHz 0.1% THD: 1600W. EIA 1 kHz, 1% THD: 2000W
Bridge Mono Mode: 8 ohms: FTC 20 Hz – 20 kHz, 0.1% THD: 2600W. EIA 1 kHz, 0.1% THD: 2800W.
Bridge Mono Mode: 4 ohms: EIA 1 kHz, 1% THD: 4000W
Signal to Noise, 20 Hz-20 kHz: 100 dB
Distortion (SMPTE-IM): Less than 0.02%
Input Sensitivity @ 8 ohms: 1.25V
Voltage Gain: 64x (36 dB)
Input Impedance: 10k ohms unbalanced, 20k ohms balanced
Power Requirements: 100, 120 or 240 Volts AC ( /-10%) 50-60 Hz (factory configured)
Dimensions: 19″ 19.0″ (48.3 cm) wide, 5.25″ (13.3 cm) tall, 15.9″ (40.39 cm) overall depth
Weight: 68 lb (30.84 kg) net, 77 lb (34.43 kg) shipping
Controls
Front: AC power switch
Front: Ch. 1 and Ch. 2 gain control
Rear: 10-pole DIP switch featuring LF filter on/off
Rear: LF filter 30/50 Hz
Rear: Clip Limiter on/off controls for each channel and switches for selecting Stereo, Parallel, or Bridge mode
Rear: Push-button circuit breaker for each channel
Brand
QSC