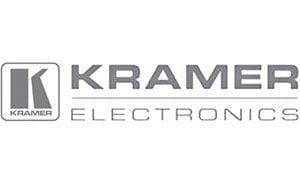 Call for price
1:2 UXGA / Video / HD LINE CAT5 Transmitter
For computer graphics video and HDTV signals
Ideal for presentation and multimedia applications
Long range graphics distribution for Churches schools, hospitals, etc
Kramer TP-102HD Computer Graphics Video & HDTV over Twisted Pair Transmitter
The TP-102HD is a twisted pair transmitter for computer graphics video and HDTV signals. It converts a computer graphics video or HDTV signal on a 15-Pin HD connector to two identical twisted pair signals.
Features:
Resolution up to UXGA and 1080P (HDTV).
HDTV Compatible.
Power Connect System" – Only one unit in a system, either the transmitter or the receiver needs to be connected to a power source. All the system units must have the Power Connect system to use this feature.
Long System Range – Up to 100 meters (300′). Greater distances possible depending on signal resolution and cable.
Cable Type – Uses UTP (unshielded twisted pair) cable such as CAT5.
Horizontal and Vertical Sync Polarity Selection.
Compact Size – Part of the Kramer TOOLS family of compact, high quality and cost effective solutions.
Specifications
INPUT: 1 XGA / HD on an HD15F connector
OUTPUTS: 2 RJ-45 OUT connectors
MAX. OUTPUT LEVEL: 1.7Vpp
HIGHEST RESOLUTION: UXGA, 1080P
DIFF. GAIN: 0.75%
DIFF. PHASE: 0.05 Deg.
K-FACTOR: 0.1%
S/N RATIO: 73dB
S/N RATIO: 73dB
CONTROLS: 2 switches for sync inversion
COUPLING: AC
POWER SOURCE: 12 VDC 447mA
DIMENSIONS: 12cm x 7.15cm x 2.76cm (4.7″ x 2.8″ x 1.08″), W, D, H
WEIGHT: 0.3 kg. (0.67 lbs.) approx.
ACCESSORIES: Power supply
Applications
Presentation and multimedia applications
Long range graphics distribution for schools, hospitals, security, and stores
Brand
Kramer