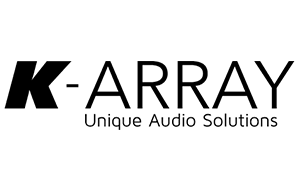 Discontinued
Ultra-light high-power 18" subwoofer
KMT18 is much more than a standard 18" powered subwoofer. The amplifier mounted on board is class D, delivering 2 x 1000 W at 8 Ohm.
Not just an active 18-inch subwoofer, the Thunder-KMT18 I is also a proper instrument for the management and processing of the audio signal. Internally integrated is a 2-channel, 1000 W @ 8Ω Class D amplifier with one channel dedicated to the 18″ woofer and the other connected to a speakon output on the rear panel, allows many different configurations in combination with passive K-array loudspeakers like mid-high speakers, entire column line arrays or other passive sub to reinforce the mid-low frequencies.
The Thunder line gives you all the boom with bass you need for installation applications. With both passive and active models in various sizes starting from 12" to 21" and dual 18", the Thunder line is a high performance sub-bass system featuring a woofer with magnet structure and suspension engineered for maximum linear excursion.
The subwoofers – KMT12P, KMT12, KMT18P, KMT18, KMT21P KMT21, KMT218 and KMT218P – contain a unique four-corner port configuration which provides symmetrical back loading to the speakers for extended bass response with very low distortion and provides incredible structural strength to the cabinet despite its light weight.
Pocket handles and an M20 thread mount position for attaching mid-high speakers make the subwoofers convenient to use and ideal for applications in theaters, concert halls, and restaurant installations.
More than just powered subwoofers, our active models depart from traditional subs in that their "smart" design puts electronics as the central component, transforming the mid-low frequency loudspeaker into a proper tool for the management and processing of the audio signal. These multi-tasking subwoofers include an integrated touch screen providing intuitive control over the main DSP functions, two balanced analog line level inputs and a two-channel AES/EBU digital input, and an onboard Class D amplifier. It's possible to connect a wide array of passive speakers including mid-high models or additional passive subwoofers.
To optimize performance, the onboard DSP includes up to 40 programmable presets. The first 8 have been designed by K-array, the additional 32 slots can be used to create, save, and store personal presets using the K-framework software. And with the K-dante accessory, the subwoofers are able to connect to the Dante network for audio and data transmissions.
Four-Corner Port Configuration
The unique four-corner port configuration provides symmetrical back loading to the speakers, for extended bass response with very low distortion. The port configuration also provides incredible structural strength to the cabinet, despite its light weight.
Unique Performance-to-Size Ratio
K-array active loudspeakers are characterized by a small footprint and unparalleled performance. These discrete solutions provide high sound pressure level and pristine audio making them the ideal choice for both invisible sound reinforcement systems from our Installed Sound line and live events from our Portable Systems line.
Lightweight
We created a portfolio complete with lightweight products that are easy to transportation and quick to setup optimizing logistics, space, labour costs and time. Boasting an incredible size-to-weight ratio, the most important factors of our audio solutions' weight are design methods, materials and manufacturing technology. Our strategy consists of utilizing minimal components and certain lower-density materials like aluminium and steel.
Weather Resistant
The most durable and resistant materials is used when developing our products to offer the most reliable solutions on the market: aluminium and steel make up the frame of all weather resistant speakers within the K-array portfolio.
Versatile and efficient, aluminium provides strong structural support without adding excess weight to the products. Naturally generating a protective oxide coating, aluminium is particularly useful for protection and conservation rendering a K-array installation dependable, regardless of the application elements.
Steel is the other functional material K-array implements, which offers corrosion resistance and strength. Stainless steel does not readily corrode, rust or stain with water making those products perfect for aquatic environments as well as traditional settings.
Integrated DSP
Built-in DSP allows for fine tuning of every single sonic parameter of the loudspeaker, providing the sound engineer the highest control on overall performance and fine granularity in system configuration, including processing, matrix and delays.
General
Type Active subwoofer
Transducers 18″ neodymium magnet driver
Frequency Response (1) 35 Hz – 150 Hz (-6 dB)
Maximum SPL (2) 133 dB (peak)
Coverage Omni
Connectors INPUT: 2x XLR (bal) line input, 1x XLR AES3 input
. OUTPUT: 1x speakOn loudspeaker output + 2x XLR (bal) parallel line output, 1x XLR AES3 output
. SERIAL: 1x XLR RS485 serial input, 1x XLR RS485 serial output, 1x USB-B inlet
Handling and Finish
Dimensions (W x H x D) (3) 465 x 482 x 600 mm (18.3 x 19 x 23.6 in)
Weight 26,6 kg (58.6 lb)
Material Wood
Color Black, White, Custom RAL
Amplifier
Type 2 ch. switch-mode, class D
Output power 2 x 1000 W @ 8 Ω
Power consumption 300 W, 1/8 Rated Power (Pink Noise)
Regulations
IP Rating IP40 (4)
Notes for data:
(1) With dedicated preset
(2) Maximum SPL is calculated using a signal with crest factor 4 (12dB) measured at 1 m.
(3) Included 17 mm (0.7 in) removable rubber feet
(4) IP43 with K-AMPCOVER.Passive loudspeakers require dedicated presets loaded on K-array amplifiers.
New materials and designs are introduced into existing products without previous notice.
Brand
K-Array