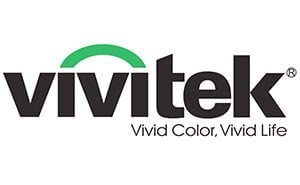 Discontinued
Large Venue Presentation Solution for Demanding Multimedia Applications
Dual-lamp switching technology
Interchangeable lenses and color wheels
DLP® and BrilliantColor™ technologies for detailed and durable image quality
Advanced color and display adjustments
6000 ANSI Lumens of brightness with a 3000:1 contrast ratio
Native WXGA (1280×800) and HDTV ready
Network-ready for integration and system administration via RJ45
Built-in 12V trigger for screen or blinds control
3D ready via DLP Link Technology
Please note,  This product is for body only. Lens is not included. Please call for options.
Heavy duty dual lamp projector
The Vivitek DW6035 is designed for conference centres and large venue applications. Featuring dual-lamp technology, interchangeable lenses and advanced display technologies. The DW6035 delivers bright, superb digital images with full color saturation.
Intended for the high-end installation and heavy duty applications it can operate 24/7, delivering high brightness of 6000 ANSI Lumens. This WXGA projector delivers vibrant images from a variety of distances. The model features a high contrast ratio of 3000:1 for deep blacks and rich colours. The DW6035 is unmatched in performance and functionalities.
DLP® Technology
DLP (Digital Light Processing) is a display technology from Texas Instruments (TI). The technology inside is often referred to as DMD (Digital Micro-Mirrors). It consists of an array of mirrors where each mirror represents a pixel element. For example, a high-definition DLP projector or rear projector with 1920 x 1080 pixel resolution would have over 2 million tiny mirrors. Each mirror is attached to an electronically driven hinge that controls the amount of colored light that is reflected from.
BrilliantColor™
BrilliantColor from Texas Instruments is a multi-color processing technology that produces vibrant images. BrilliantColor technology uses up to six colors, instead of just the three primary colors, red, green and blue, to improve color accuracy and brightens secondary colors.
Dual Lamp
A dual lamp projector is able to display larger/brighter images beyond what a single lamp can produce. Dual lamp technology automatically switches the projector to single lamp mode when one of the lamps goes out, ensuring usage without any interruptions.
HDTV
High-Definition Television. Generic term that indicates a higher resolution format than previous standards. At present, denotes anything higher than a 480p signal. Most common formats are 720p, 1080i and 1080p.
| | |
| --- | --- |
| Native Resolution | WXGA (1280 x 800) |
| Brightness | 6000 ANSI Lumens |
| Contrast Ratio | 3,000:1 |
| Max. Supported Resolution | UXGA (1600 x 1200) @60Hz |
| Native Aspect Ratio | 16:10 |
| Lamp Life and Type | 2,000/2,500 Hours (Normal / Eco. Mode), 280W x2 |
| Display Type | Single chip DLP® Technology by Texas Instruments |
| Chip Size | 0.65" DMD |
| Throw Ratio | 1.81- 2.38:1 (Std lens) |
| Image Size (Diagonal) | 40″ – 500″ (Std lens) |
| Projection Distance | 1.53 – 26.11 m |
| Projection Lens | F = 1.7 – 1.9 f = 26- 34mm |
| Zoom Ratio | 1.3x (Std lens) |
| Lens Shift ( Based on Full Image Height) | Vertical: 0~50%, Horizontal: /- 10% |
| Offset ( Based on Full Image Height) | Motorized Lens Shift |
| Keystone Correction | Vertical /- 30° |
| Video Compatibility | SDTV(480i, 576i), EDTV (480p, 576p), HDTV (720p, 1080i/p), NTSC (M, 3.58/4.43 MHz), PAL (B, D, G, H, I, M, N), SECAM (B, D, G, K, K1, L) |
| I/O Connection Ports | VGA-In (15pin D-Sub), DVI-D, Component (5 BNC) (RGBHV), Component (YPbPr BNC x 3), Component (YPbPr RCA x 3), S-Video, Composite Video, VGA-Out (15pin D-Sub), RJ45, 12v Trigger, RS-232, USB B (1 (Service Only)), Remote Jack(wire remote) |
| Dimensions (W x D x H) | 508 x 389 x 195 mm |
| Weight | 16,5 kg |
| Noise Level | 40dB/34dB (Normal/Eco. Mode) |
| Power | Supply: AC 100-240V Consumption: 715W (Normal Mode) , 580W (Eco. Mode), <0.5W (Eco Standby Mode) |
| Spare Lamp P/N | 3797819700-SVK |
| 3D Glasses P/N | 3534257700 |
| Remote Control P/N | 5041823400 |
| Standard Accessories | VGA Cable, User Manual (CD), Lens Cap, Warranty Card (by region), Remote Controller (with battery), AC Power Cord |
| Optional Accessories | Spare Lamp P/N: 3797819700-SVK , 3D Glasses P/N: 3534257700 , Remote Control P/N: 5041823400 |
| Warranty | Large Venue Warranty: 5 years projector / 1 year on lamp or 1000 hours whichever comes first |
| UPC Code | 814964 339270 |
Brand
Vivitek
Vivitek is a leading manufacturer of visual display and presentation products. The company's extensive line-up of award-winning digital projection devices incorporates the latest innovations and technologies. The extensive line-up consists of projectors for home cinema, education, large venue and meeting room projectors.
Vivitek was the first to launch a full high-definition LED home cinema projector and was among the first to offer the tiny but powerful HD LED Qumi projectors to the mass market consumer, as well as 3D-ready digital projectors featuring DLP link® from Texas Instruments.