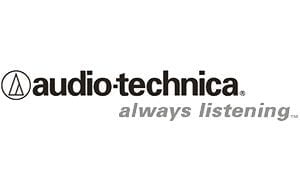 £215.00 Inc VAT
Audio-Technica's entry level UHF handheld wireless system.
2 x 4 Channel Frequency Plan
Clear Receiver Display
Rack-Mountable Design
Intuitive Receiver and Transmitter Controls
RF Indicator Light
Sturdy But Stylish Build Quality
With a 2 x 4 channel frequency plan for enhanced flexibility, sturdy but stylish build quality and a simple user interface, AT-One is ready to become your perfect wireless companion.
AT-One is designed with simplicity and ease-of-use in mind. Equipped with a practical carrying case, rack-mount kit and detachable antennae, AT-One is the perfect balance of price and performance, ideal for those looking for accurate, reliable performance at an entry level price.
The AT-One's frequency plan is divided into two groups with 4 available channels in each group split between the Europe wide license free frequency range and the LTE duplex gap. Users can choose up to 4 channels within one group.
The ATW-13F handheld system features the ATW-T3F cardioid condenser handheld transmitter, with 10mW RF output and 10 hour battery life.
OVERALL SYSTEM
Frequency range: 824 – 831 MHz, 863-865 MHz
Modulation mode: FM
Number of frequencies: 2x 4-frequencies
Operating range: 60m, typical
Frequency response: 60 Hz – 16 kHz
Frequency stability: /- 0.005%, Phase lock loop frequency control

RECEIVER SPECIFICATIONS
Receiving system: Antenna switching diversity
Image rejection: 55dB minimum
Dynamic range: HH: 108 dB, BP 103 dB (@ max deviation)
Sensitivity: 10dBµV (S/N 60dB @ 20 kHz deviation)
Total Harmonic Distortion: <1% – 20 kHz deviation @ 1 kHz
Level control: Mic / Line (0 / -20dB)
Antenna Input: BNC type, 50O – BIAS voltage 12V DC 100mA each
Audio Output: Unbalanced -2dBV, Balanced 4dBV
Output connectors: Unbalanced: 6.3 mm mono jack, Balanced: XLRM-type
Dimensions: 200 mm x 42 mm x 122 mm (W x H x D)
Weight: 418 g without accessories
Accessories included: AC Adapter, Antennas, Rack mount adapter
Optional System Accessory: AT8677 Dual rack mount kit


HANDHELD TRANSMITTER

RF Output power: 10 mW
Spurious Emissions: Following national regulations
Microphone Element: Condenser Cardioid
Batteries (not included): Two 1.5V AA alkaline
Battery Life: 10 hours – depending on battery type and use pattern
Dimensions: 268 mm long – 52 mm (diameter)
Weight: 227 g without batteries
Accessory included: Stand clamp
Brand
Audio Technica