TOA WM-5265
7th March 2018
Audio Technica AT8473
7th March 2018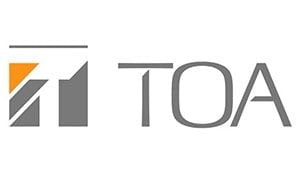 £165.00 Inc VAT
Beltpack Transmitter
Available in Chan 70 or chan 38
Charging contacts for use with Rechargeable battery option
For use with TOA lapel mics (not included)
Share
DM Music recommends all radio mics are used on licenced frequencies (channel 38 or Fixed Site Licences). From 2013 Channel 70 (unlicenced) may experience interference from 4G Mobile phone networks. Please also see our DM Quick Expert Guide for more information. We can also arrange licences on your behalf. Please call us on 01582 761122 for more information.
Toa WM5325 UHF and electret condenser lapel microphone (not included) is suitable for both Toa's 16 channel and 64 channel systems.
Requires TOA WT5810/WT5805/WT5800 receiver.
Complete with Cardioid Microphone.
Requires 1 x AA battery
Available in Chan 70 and Chan 38
The WM-5325 wireless transmitter has been manufactured for use with a UHF system. It is for use in speech reinforcement applications. Thanks to the PLL-synthesizer system, 64 different operating frequencies are made available. A high output power ensures stable radio signal transmission.
Modulation
Frequency modulation
Frequency Range
576 – 932 MHz (*2), UHF
Channel Selectable
64 channels (the number of channels may differ from country to country)
RF Carrier Power
50 mW or less
Tone Frequency
32.768 kHz
Oscillator
PLL synthesized
Maximum Input Level
-14 dB to -29 dB (*1) (Audio level control: Min. to Max.)
Maximum Deviation
±40 kHz
Audio Frequency Response
100 Hz – 15 kHz
Battery
WB-2000 (WB-2000-2 contains 2 pieces) rechargeable battery (option)
or AA alkaline dry cell battery
Battery Life
Approx. 13 h (when the WB-2000 rechargeable battery is used)
Approx. 10 h (when the alkaline battery is used)
Indicator
Power/Battery lamps
Antenna
Built-in type
Connector
φ3.5 mm (φ0.14″) mini plug
Operating Temperature
-10 ℃ to 50 ℃ (14 ゜F to 122 ゜F) (except battery)
Operating Humidity
30 % to 85 %RH (no condensation)
Finish
Resin, coating
Dimensions
62 (W) × 102.5 (H) × 23 (D) mm (2.44″ × 4.04″ × 0.91″)
Weight
90 g (0.2 lb) (with battery)
Accessory
Screw driver …1, Storage case …1, Neck strap …1
Option
Unidirectional lavalier microphone: YP-M5300
Omnidirectional lavalier microphone: YP-M5310
Headset microphone: WH-4000A, WH-4000H
Brand
TOA