MediaShout 6 is a powerful presentation software with tools designed for churches. Create song lyrics, liturgies, Bible verses, and announcement slides in minutes.
Click below to download MediaShout 6 for Windows to your computer. The same download is for trial or purchased activations. Download MediaShout 6
What's New in MediaShout 6?
Inline Editor Tool
No other church presentation software includes an inline editor. Now you can edit cues and slides from the preview window, eliminating the need to open another window just to edit.
Simplified Interface
MediaShout 6 was redesigned to be simpler and more intuitive to use. This includes a responsive ribbon bar, inline editor, and theme options. We believe it is the best interface available.
Lyric Use Reporting Tool
This powerful tool allows you to easily generate exportable reports that show which songs were used during services for a given date range. The exported file can then be used to properly report your usage.
Built in Liturgy Manager
You can now manage liturgy content as easily as you can song lyrics or Bible verses. This special tool includes features to easily handle call and response text, as well as save them for reuse later.
Dual Bibles Tool
After choosing the Bible reference you want to display, you can select two different translations that will automatically be shown side-by-side. This is great for teaching situations or for multi-lingual audiences.
Light or Dark Theme
You can now select either a light or dark theme to the MediaShout interface control. This gives you the ability to adjust to the surrounding light to make MediaShout easier to view.
TripleWide Support
MediaShout 6 supports multi-display set ups. You can control what shows up on each display or spread content over all outputs (up to 3). There is no additional fee for this feature in MediaShout 6.
Display Masking
You can hide or show only certain parts of your display using simple-shaped masks or more complex masks. This makes MediaShout 6 great for use in Environmental Projection setups.
MediaShout 6 Interface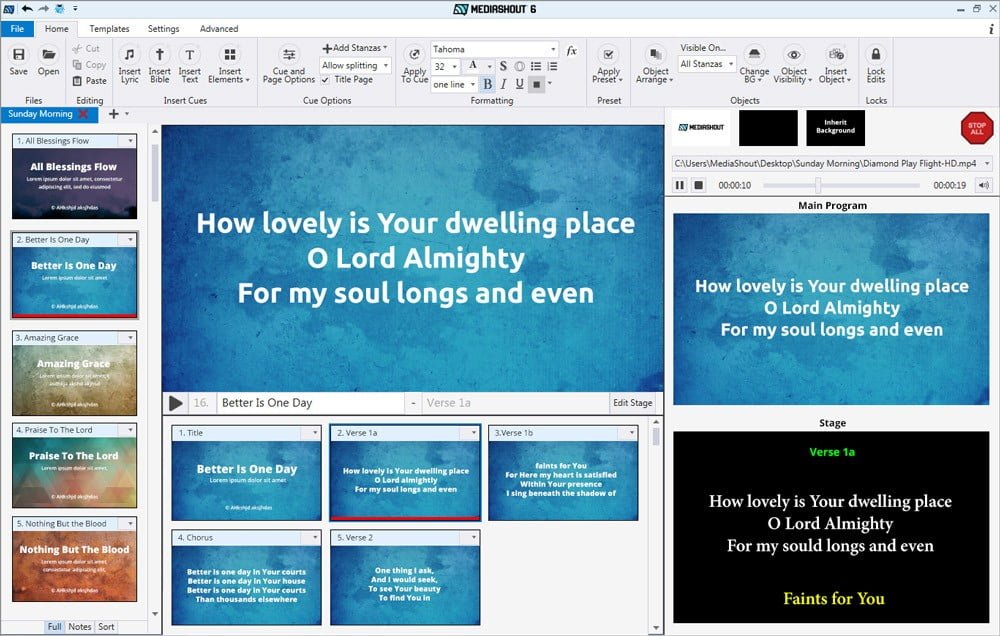 A – Ribbon Bar
Similar to many other programs, MediaShout has a responsive ribbon bar with tools that change based on the active item chosen in the inline editor.
B – Scripts
In MediaShout, a presentation is called a Script. Scripts contain Cues that contain pages. You can have multiple scripts open at one time and tab between them.
C – Inline Editor
The inline editor makes creating and changing slides simple, and it all happens in the main control window. It includes snap guides for exact placement of objects.
D – Pages
Cues contain one or more pages. You can edit pages all at once or one at a time. Simply click once to load the page in the inline editor or twice to fire it to the main display.
E – Quick Cues
Quick cues give the user a fast way to stop a presentation or fire a logo, blank screen, or background to the main display. The quick cues are customizable.
F – Viewers
Viewers show you what is on the main or stage displays. MediaShout viewers are fully customizable. You can fully customize and even add up to 8 viewers.
System Requirements:
Valid and active MediaShout 5 license required to upgrade
Windows 7, Windows 8/8.1, or Windows 10
Primary display needs to be 1280×768 or higher
PowerPoint 2010 recommended for PPT integration
Dedicated, dual-head NVIDIA or ATI/AMD video card w/ 512MB DDR3 RAM (Suggested Cards)
Intel Core2Duo Processor running at 2.5GHz equivalent or better
4GB RAM