Sennheiser HSP-4 ew
7th March 2018

Audio Technica AT8411 lapel mic clip
7th March 2018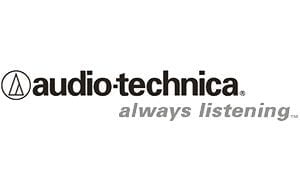 £179.00 Inc VAT
Subminiature Omnidirectional Condenser Lavalier Microphone


Broadcast quality mic for intelligible, accurate voice reproduction
Excellent capsule isolation for reduced clothing rustle and popping noise
5mm diameter capsule
4 pin HRS connector for use with ATW radio mic belt pack transmitters
Share
Subminiature Omnidirectional Condenser Lavalier Microphone. Terminated with locking 4-pin connector for A-T UniPak" body-pack wireless transmitters. 55″ (1.4 m) cable. Includes AT899AK accessory kit.
Available in Beige or Black
Audio-Technica's omnidirectional AT899 is engineered for intelligible, accurate voice reproduction. Its low-profile design (a mere 5 mm in diameter) assures minimum visibility. The mic may be worn as a lavalier and is easily hidden in clothing or hair. It offers the convenience of battery or phantom power; its switchable low-frequency roll-off reduces popping.
Features:
Maximum intelligibility and clean, accurate reproduction for vocalists, lecturers, stage and television talent, and houses of worship
Low-profile design (a mere 5 mm in diameter) is ideal for applications requiring minimum visibility
Operates on battery or phantom power
All wireless models available in either low-reflectance black or beige
Extensive array of provided accessories includes a clothing clip, viper clip, magnet clip and lanyard (black models only), windscreens, element covers, interchangeable single and double mic holders
Accessories available separately include complete accessory kits, clothing clips, three-pack element covers and three-pack windscreens
9.8′ (3.0 m) cable permanently attached to mic, TA3F connector at power module
ELEMENT – Fixed-charge back plate, permanently polarized condenser
POLAR PATTERN – Omnidirectional
FREQUENCY RESPONSE – 20-20,000 Hz
LOW FREQUENCY ROLL-OFF – 80 Hz, 12 dB/octave
OPEN CIRCUIT SENSITIVITY – Phantom: -43 dB (7.0 mV) re 1V at 1 Pa Battery: -46 dB (5.0 mV) re 1V at 1 Pa
IMPEDANCE – Phantom: 200 ohms Battery: 250 ohms
MAXIMUM INPUT SOUND LEVEL – Phantom: 138 dB SPL, 1 kHz at 1% T.H.D. Battery: 116 dB SPL, 1 kHz at 1% T.H.D.
DYNAMIC RANGE (typical) – Phantom: 108 dB, 1 kHz at Max SPL Battery: 86 dB, 1 kHz at Max SPL
SIGNAL-TO-NOISE RATIO – 64 dB, 1 kHz at 1 Pa
PHANTOM POWER REQUIREMENTS – 11-52V DC, 2 mA typical
BATTERY TYPE – 1.5V AA/UM3
BATTERY CURRENT / LIFE – 0.4 mA / 1200 hours typical (alkaline)
SWITCH – Flat, roll-off (recessed)
WEIGHT (MICROPHONE) – 0.02 oz (0.5 g)
WEIGHT (POWER MODULE) – 3.6 oz (102 g)
DIMENSIONS (MICROPHONE) – 0.63″ (16.0 mm) long, 0.20″ (5.0 mm) diameter
DIMENSIONS (POWER MODULE) – 5.71″ (145.0 mm) long, 0.83″ (21.0 mm) diameter
OUTPUT CONNECTOR (POWER MODULE) – Integral 3-pin XLRM-type
CABLE – 9.8′ (3.0 m) long (permanently attached to microphone), 0.08″ (2.0 mm) diameter, 2-conductor, shielded cable with TA3F output connector that mates with TB3M jack on power module
ACCESSORIES FURNISHED – AT8537 power module; AT8439 cable clip; clothing clip base; viper clip base; magnet clip base and plate with lanyard; three single mic holders; two double mic holders; two element covers; two windscreens; battery; protective carrying case
AUDIO-TECHNICA CASE STYLE – M29
Brand
Audio Technica